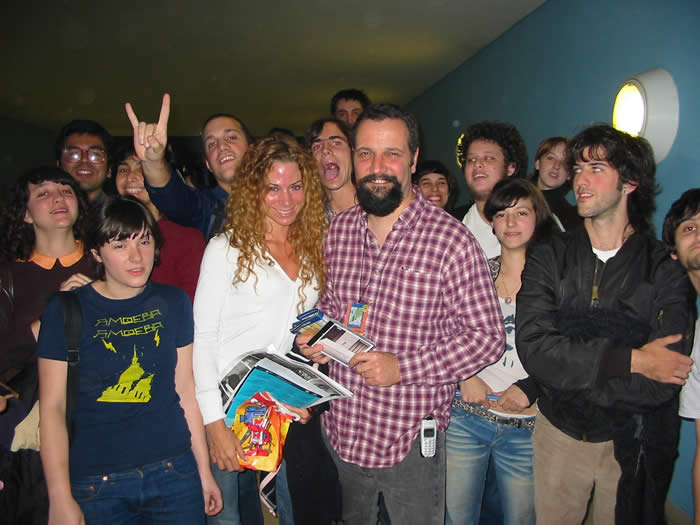 Buenos Aires Scene Report 04-05
I just returned home from Buenos Aires, Argentina for the
7th annual Buenos Aires Indie Film Fest International
(BAFICI , for short, and web searches, apparently
there is alot of press online). People seem to party there into
the wee hours of the morning (4 and 5 am are still considered
waking hours). Needless to say, I had a blast!
I was invited there to screen five of my films, "The Slog
Movie" (1982), "Desperate Teenage Lovedolls" (1984),
"Lovedolls Superstar Fully Realized" (1986/2004), "1991
The Year Punk Broke" (1992), & "(This Is Known As)
The Blues Scale" (2004).
All the screenings went extremely well, and the crowd
reaction was enthusiastic and beyond anything I could
have anticipated. The total number of attendees at the
festival was just about 150,000. I quickly lost track of
how many times my films were screened. There was a
total of 400 films playing from such American filmmakers as
John Waters, Bruce LaBruce, Todd Solondz (his latest
Palindrones is a masterpiece), Hal Hartley, Monte Hellman,
Haskell Wexler, Albert & David Maysles, Robert Frank ,
John Sayles & David W. Griffith!
There was also a retrospective on the great Jean-Luc Godard,
a man I coincidentally share a birthday with (December 3). To
balance that out Ozzy Osbourne is also born on the same day.
"The Slog Movie" & "Desperate Teenage Lovedolls"
seemed to be the audience favorites (of my work) . As there's a
great interest in the Los Angeles underground music
scene of the early 1980's here, along with much
worshiping of The Ramones. Of course, the screenings
of "1991 TYPB" and its sister sequel "(This Is Known As)
The Blues Scale" were packed, often with kids sitting in the
aisles. This would never be allowed in the United States.
It was great to be able to buy beer at the theater concession
stand and take it into the cinema. Another reality unheard of
back home in the States.
I was asked many times if I would beg Sonic Youth
to return to Buenos Aires. People seemed as interested
in Redd Kross as they were Kurt Cobain. I saw lots of
kids in Black Flag T-shirts (and tattoos). A young girl came
up to me after a screening of "The Slog Movie" and said in
broken English, "This movie was your life 20+ years ago,
and now this movie is my life right now." She explained
she was just starting out in a punk band in Buenos Aires,
and she found the film to be inspirational.
I was kept busy by the 3 or 4 screenings a day/night
of my work, each followed by a Q & A with the
audience, which was primarily made up of young men &
women. Apparently there is a large amount of indie
films coming out of Argentina, and there are several
film schools, and budding filmmakers, many of which
were in the audience. The questions were often quite
interesting, and kept me on my feet. I had an interpreter, however
I was just hoping that much of what I was saying wasn't getting
lost in translation.
Apparently, from what I was told, the language translation
for the subtitles to my movies were pretty much right on.
I found myself reading them, as if to give myself a crash
course in Spanish. As it worked out, the little Spanish I knew
did me just right.
It was great that I was also able to present my new
version of "Lovedolls Superstar", "Lovedolls Superstar
Fully Realized". I was worried all the obscure "inside"
1970's American pop-culture references would be lost on
Argentinean audiences. This proved to be not the case, as
I discovered all the trash TV I grew up with in the US, is
playing all day and night on cable down here. I mean, they
are still showing "Wonder Woman" for kristsakes! I was
also informed there is an all girl band here named The She-
Devils, apparently directly named from Tanya Hearst's gang
in "Desperate Teenage Lovedolls".
To my surprise, my work seemed to be somewhat known,
even although there was never an Argentinian release
proper for any of them. Imports and "black market" is
how they've been seen for the most part. This festival will
certainly bring my work to a great number of Argentinians.
I was kept busy, but was able to get a little sight-seeing in
I went to the cemetery where Evita Peron is buried. Actually,
they do not put their people in the ground here. The graves are
all above ground with many of the caskets visible from the little
gothic structures they are built in.
I was given alot of local bands CDs, notably Los Natas &
Coleco. Someone even gave me a copy of their documentary
film on the current underground scene in Buenos Aires called
"Todo Por Amor, Buenos Aires Dance". I was touched that
my work is an inspiration to the kids there. I had a great time,
and was honored that I was invited to be a part of their
festival.
Gracias,
Dave Markey