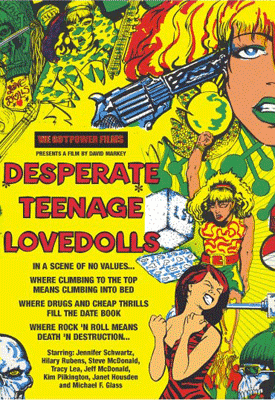 DVD REVIEW

:
monsters at play
"In the way good punk music inspires you to form a band, David Markey's Desperate Teenage Lovedolls makes it seem easy and fun to make your own movie. " - LA Weekly


Desperate Teenage Lovedolls was received as an instant cult classic when first released on the Los Angeles punk underground in 1984. Since then, the no budget super 8 film has gained international and aboveground praise. Bunny, Kitty, & Patch (Hilary Rubens, Jennifer Schwartz, & Janet Housden) are three teenage runaways who form the hottest all-girl band of all-time, The Lovedolls. Their meteoric rise to the top from a drug addled street life in Hollywood comes not without a price, thanks to sleazy rock manager, Johnny Tremaine (Steve McDonald). Rival all-girl gang The She Devils and their leader Tanya Hearst (Tracy Lea) have it in for our heroes, as do annoying mothers and psyche ward doctors. The film also features Jeff McDonald, Phil Newman, Vicki Peterson, Annette Zilinskas & Dez Cadena. Directed by David Markey, the saga is continued in the 1986 sequel Lovedolls Superstar.


PHOTO GALLERY | VIEW STILLS | WATCH DVD TRAILER


BUY DVD NOW:

US ORDERS:
$20.00 (postpaid)

INTERNATIONAL ORDERS:
$24.00 (postpaid)


DVD FEATURES:
• Dolby Digital Stereo
• All Region Compatible DVD
• The Story of "Desperate Teenage Lovedolls" and We Got Power
• Two trailers (including "The Lost Trailer")
• Director & Executive Producer commentary
• Outtakes
• Cast & Crew Bios
• Redd Kross "Ballad Of A Lovedoll" Video
• the Lovedolls/Redd Kross teaming up of "legend" at the DTL 10 year anniversary
• and more!