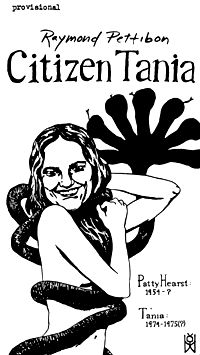 written, directed and produced by raymond pettibon. co-directed by dave markey
"this exhausting maelstrom of sex and violence is redeemed by the fair representation of the good intentions of all my friends of those great days!" - bill walton
starring pat ruthensmear, dez cadena, dave markey, shannon smith, lance pettibon, joe cole, jordan schwartz, jennifer schwartz, oie pettibon,
and nelson tarpenny.
pettibon and co-director dave markey ("lovedolls superstar," "1991: the year punk broke," "reality 86'd") present the sla/patty hearst drama of the early seventies as the final detonation of sixties counterculture premise. a free, sexy right on tania is forged of the uptight, poor little rich girl patty over the white hot flame of four hundred amerikkkan years of bottled up race/sex/black/white fury in the person of field marshal cinque. make sure your vcr has a frame-by-frame advance button! you won't want to miss a single inch of this up from the plantation drama!
[hw.4 / 87m. / 1989 / vhs]