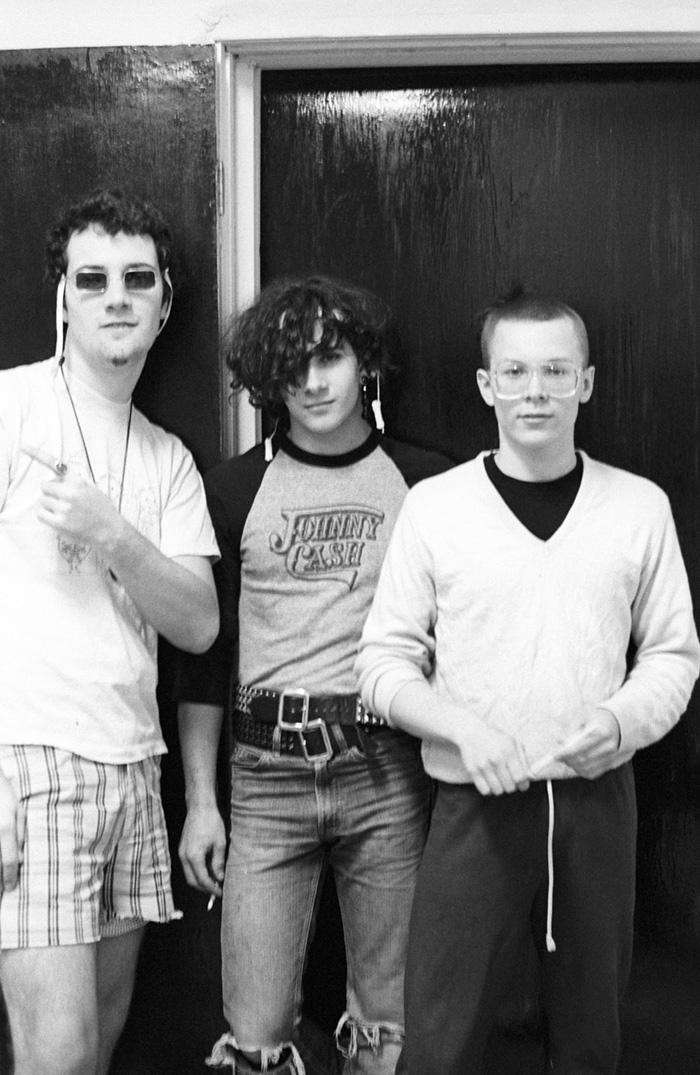 Painted Willie original line up @ Spinhead Studios, North Hollywood,
Dave Markey, Phil Newman, & Nick Delaney (Photo by Jennifer Finch)
The Painted Willie Experience
In early 1984 I was living in the back of a storefront on Burbank Blvd. in North Hollywood, that I had helped construct an 8 track recording studio in. The place was dubbed Spinhead and it was owned by Phil Newman, the bassist of Sin 34. He also was living there and attempting to run the studio as a business, but having a difficult time. Sin 34 would also rehearse there, in addition to a few other bands like Americas Hardcore and Bad Religion. I recall Phil had a side band going for a while with Greg Graffin of Bad Religion, called Glacier. I think some of that material ended up being BR material later on.
We had no shower or hot water. Bathing was done in the industrial backyard with a garden hose. The only kitchen facility was a hot plate. I was working as a punkrock extra in movies while I was making my own movie "Desperate Teenage Lovedolls" during this time. From all my extra work, I can be seen most clearly in the frame with Helen Hunt in the 1980s instantly forgettable comedy "Girls Just Want To Have Fun". I am also a punk rock extra in Penelope Speeris' classic tale of Southern California punk misfits in "Suburbia".
Sin 34 was having a difficult time during this period. We were on the verge of breaking up, and the tensions between the band members was high. Julie had gotten into speed, and then heroin during this time. Mike was also getting into hard drugs too. Phil and I were just into psychedelics at the time, so we related through that experience.
We had grown tired of the restrictions of the hardcore scene, which was crashing and burning all around us anyhow. We thought we could do more with music. I remember we were listening alot to The Fall at this time. And Syd Barrett era Pink Floyd. Rolling Stones "Satanic Majesties Request". Jimi Hendrix Experience "Axis Bold As Love". Blue Cheer "Vincebus Erruptus". This was the shit that was moving us at the time.
Phil and I wanted to do a side project somewhere along the lines of this kind of music, fused with the hardcore we had previously covered with Sin 34. We had been playing for a few years now, and had grown leaps and bounds musically. Part of it was having the studio to play in 24/7. It was great, I really miss that, even although the times were real lean and very dark.
We were friends with Vic Makauskas of the band SVDB, and he had been over a few times to jam with us. His band was also on the verge of disintegration, as were alot of the hardcore bands of Southern California that year. SVDB were alot more poppy/catchy/crunchy type so-cal punk, than hardcore. I remember they were a pretty tight live band, with a definite Damned bent.
We had also met this kooky Canadian named Nick Delaney, who had just come to LA in search of the Punk Rock N Roll (yikes) dream. He was an eccentric, and very awkward socially, but his guitar playing and song writing was extremely unique. He was in a few bands from his native Vancouver, Canada, namely No Exit and East Van Halen. Nick was out of his mind, and never touched a drug in his life. He took to calling himself Will at this time (after the name of the band, of course). I remember he shaved his head, except for a small circle on the top, which he died blue, with, a black center. He would later explain, this was the island on his head. He would affix a cocktail umbrella to the center of it, and claim to take naps there in the late afternoon.
Somewhere around this time, Sin 34 falls apart. We would regroup a few months later with the offer of a "big gig" at the Olympic Auditorium opening for Fear and the Circle Jerks. I think we played once more at the Cathey De Grande before the band finally rested, once and for all. NOFX would open that show for us, I believe it was one of their first gigs.
So Phil and I start Painted Willie as 4 piece. 2 guitars (Vic and Nick), and Phil and I on bass and drums respectively. Phil had dubbed the band Painted Willie from a 1950's thesaurus he had found in a thrift store. Apparently it was an old English acronym for homosexual, or more approximately transvestite.
Right before our first show, at the Cathey De Grande dollar punk night, Vic dropped out of the band. Apparently his straight forward rock guitar playing didn't jibe with the wild/avant garde stylings of Willie (Nick). Willie was getting more and more out there, with so much energy and ideas constantly exuding from him. It grew hard to tell if he was a genius or a complete freak. I guess we found our own Syd.
So we debuted as a three piece, and quickly recorded a three song (one song each from each member) 7" ep simply titled "Painted Willie" (Spinhead 03), at our own home/rehearsal/recording studio Spinhead. "Ragged Army" (Will, er Nick's) best song by far, "Paper Tiger" (my tune, with a definitive Meat Puppet II influenced mid-section), and Phil's stunning "Kill It" as the B side. It's a gritty and unique record, with odd time signatures and quirky arrangements. Still sounds great today, if I don't say so myself.
The band had a hard time getting gigs, and it seems the Sin 34 fans were mixed on this decidedly different musical outing. There was a fair amount of airplay on KROQ's Rodney On The Roq show of the single. But the music scene in LA in 1984 was just a little whack. All of the clubs had closed, and punk rock, post-punk, post-hardcore, whatever you wanted to call it- had no venues after the Cathey shut it's doors. It was in that time I first heard the word "alternative", and it was used in a review in Option magazine, to describe our debut single. I mean, it may have been used previously somewhere. But I had never seen it.
It only took a month or two of "Will" Nick's living with us in that crammed back room of Spinhead, for tensions to come to a boiling point. It was kinda like the Jim Jarmusch movie Down By Law. In June of '84 my Lovedolls movie was screened for the first time ever (before the premier proper) in Spinhead Studios. It was around this time that Phil and I had given Nick his notice. As much as I liked the guy, and his songs, he was just too much to live with. I think Phil was adamant about booting him, and I was more or less in agreement.
So Nick was out, and it was back to basics. We recorded a 12" EP at this point, as a two piece. Phil played the guitar parts, and quite amazingly at that. I took the photograph that graces the simple black & white cover. It was a homeless man (who was actually a friend from the hardcore Oki Dogs days, Lino Lousy from the band Crankshaft) in downtown LA's skid row, covered in an American flag. We titled the EP "My Fellow Americans" (Spinhead 04) . The Los Angeles 1984 Olympics were underway. Ronald Reagan was reigning supreme in the White House. This would be Painted Willie's decidedly most political record in the band's brief 3 year history.
"My Fellow Americans" opens the ep with a dirgey but catchy instrumental with a political discourse layered over the top of it. The left wing discussion is mixed to the left channel, and is spoken by the Dutch band BGK. The right wing claptrap is on the right channel, and is spoken by various girlfriends of the band, one notably Jennifer Finch, future of L7. They were not speaking seriously of their political leanings, Phil and I had told them to be as conservative as they could imagine being. It's an interesting track, and it was the one that got the most airplay on this disc. This is followed by "Part Two", a Phil composition originally performed by Sin 34, but never recorded. The song was inspired by the gloomy nuclear nightmare movie "On The Beach" and tells the story of an atomic bomb survivor in his last moments of life.
"Crossed Fingers" opens side 2 of disc, which yours truly warbling my lyrics of genuine hope vs. direct action. It's one of my favorite songs I have ever recorded. Phil wrote the music, and it was created during the early years of Sin 34. I remember Julie's version of that song, it was called; "It's The Great Punk In, Charlie Brown". Too bad that was never recorded.
It's followed by a punk/funky anti-Ronny Reagan song I wrote and sang called "Republican Suntan (Sunburn)" . It's decidedly light hearted and comic relief on this collection. The side closes with a psychedelic instrumental of the title track "My Fellow Americans". These first two EPs contain this band's strongest material, although the subequest SST releases are not without their moments.
For the few live shows we played in 1984, Phil and I once again enlisted our old friend Mike Vallejo of Circle One on guitar. He was also an early guitarist in Sin 34. We played a hall show adjacent to Macarthur Park in Downtown LA and a show at the Mabuhay Gardens as a part of a Maximum Rock N Roll night.
In early 1985 Vic Makauskas would rejoin the band and we would quickly write a whole new set of material. The band became more straight forward punk / rock than our quirky origins with Makauskas back in the fold. In fact his guitar work was downright metal, especially his guitar leads that earned him the not so flattering nickname of "Ying-vic" (named after noodler supreme Yingwie Malmsteen.) That spring two separate demo sessions would yield the band a record contract with SST Records and a six month national tour with my all time heroes Black Flag in 1986.
Unfortunately we re-recorded the demo material with Black Flag guitarist Greg Ginn producing. His over compression and lack of dynamics had stripped the material of its punch, and the subsequent LP release Mind Bowling suffered. The relentless six month tour that followed was an intense and sometimes grueling experience, more like a military assignment than a rock tour. However, it was great to play night after night to large crowds in the bars, clubs and medium sized halls and the occasional large theaters.
Dubbed the In My Head Tour, as it was the title of Black Flag's swan song release. This would be Black Flag's last tour ever, and the negative vibes were apparent from the get go. The tensions between Henry Rollins and Greg Ginn were high. In all of those six months I never saw the two together other than on stage, nor did I never see the two speak. How the tour went on for six months was a testimony to the thirteen individuals who were on that tour. I met a some great people on this excursion like Joe Cole (who I would become close friends with), Mitch Bury, Dave Levine, Cel Revulta, and the incredible rhythm section of drum miester Sim Cain and badass bassosaurus Andrew Weiss. This tour is detailed in Joe Cole's great book "Planet Joe" and Henry Rollins' "Get In The Van".
I was also shooting a document of this tour with my trusty Super-8. I ended up shooting eight hours worth of material that I edited together in a film I titled "Reality 86'd". But unfortunately Greg Ginn got in the way of its release. I believe Greg blindly saw my film as a promotion for Henry Rollins then fledging solo career. Ginn withdrew into bitterness and focused more on the business of his record label, which he would eventually run into the ground by over saturating the roster. At some point the label would just collapse under its own weight and cease to release new recordings, more or less ending the country's foremost leading independent record company.
But before this would happen SST would release a few more great recordings by Sonic Youth, Dinosaur Jr., Bad Brains, Negativland, Meat Puppets, and a few others. Painted Willie would release an EP recorded during that 1986 tour titled "Live From Van Nuys", and the following year a full length LP "Upsidedowntown". Painted Willie would do it's own US tour that year in 1987, but would dispand shortly thereafter. In 1988 SST would release a posthumous compilation of the band's early work on the LP "Relics".
-Dave Markey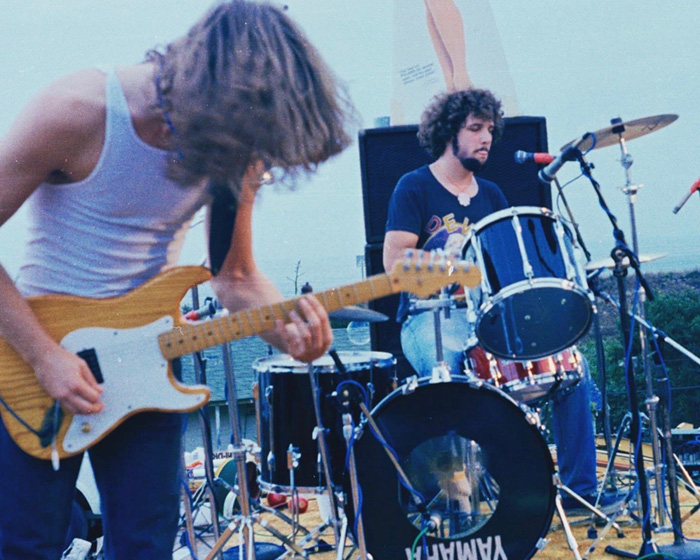 One of the last shows, Ventura County Line, Fall 1987
Vic Makauskas & Dave Markey (Photo by Joe Cole)