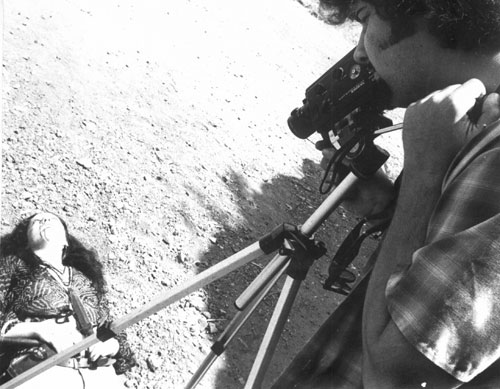 I shot "Lovedolls Superstar" in 1985 (I was 21 years old) on the heels of the success of my uber-underground 1984 film "Desperate Teenage Lovedolls" for about $10,000.00. This was basically 40 times "Desperate's" unheard of $250.00 budget. This time around we actually shot nine hours of film, which allowed for multiple takes and angles. This one was actually feature length (originally just under 90 minutes, opposed to the 50 minute first film).

Everyone from the first Lovedolls film returned, and a whole new crew of people wanted to be a part of the sequel. I was amazed at the cooperation of everyone involved. This film was a total blast to make, and felt more like a "real" movie. And I don't mean Hollywood. Even though we shot on the streets of it, this was about as far from Hollywood as you could get. I think "indie film" can actually properly be used here. This was the genuine article, truly outside of any studio system, perhaps even anticipating the golden era of 1990's Independent Film.
Even although it was shot on Super-8 sound film for very little money, a great care for detail went into the making of this film. From the casting to the location scouting. From the recording of the soundtrack music at Spinhead Studios by Phil Newman, to the post production at David Travis' Pinhead Studios. This was a natural extension of punk rock for me, DIY filmmaking with no strings attached. Just a great scene of kids into filmmaking and having a ton of fun while doing it.

"Lovedolls Superstar" premiered in the heart of Hollywood in spring of 1986 at the Sunset Strip's Roxy Theater, followed by live sets from The Lovedolls, and Redd Kross. This was followed by a series of screenings at the West Hollywood video theater EZTV, and an East Coast tour, which included a live set from The Lovedolls. This lead to a Pacific Northwest tour and a Southwest tour in the summer and fall of '86, through the winter of '87. The Lovedolls became a "real" band at this point and began playing locally and eventually toured nationally. This film mainly played rock clubs across the US, even without the live portion of the bill. While not a big moneymaker by any means, it did break even, and then some. And like the first film, it was well received with the critics.

Despite its limited distribution on VHS, (thanks to the ill-fated SSTv, a failed video distribution offshoot of SST Records) it seemed to get out there through the hardcore fans. I've heard accounts from people who have seen this on tenth-generation dubbed VHS tapes, with it's already grungy-look and lower than lo-fi sound.

I was never pleased with the cheap-o "video camera pointed into the projector" film transfer, or the even cheaper mid- 80's video graphics used in the title sequences. So in 2003, it was my pleasure to unearth the thankfully well-preserved original Super-8 film and do a proper telecine (film transfer) and a complete re-edit, following the original as a guide. I ended up using several scenes I didn't use in the original release, and this version is shorter.

Thanks to Avid nonlinear editing, I completed this new cut in two months. The remaining part of the following year and a half was spent on the sound. The no-fi Super-8 magnetic audio track was painstakingly equalized and mastered to its best possibility. Foley and sound effects were added where needed. For the first time ever, you can now hear the film in Dolby 5.1, a feat that blows my mind more than anything else.

This version of the film boasts additional music by Sonic Youth, the Meat Puppets, Anarchy 6, and Annette Zilinskas (artists already a part of the original soundtrack). Greg Ginn previously threatened my distributor and consequently I do not miss his late-era Black Flag song and score. New additions to the soundtrack also include the talents of my old friends Jeff McDonald (appearing under he psuedonym of Lynn Portobello), Abby Travis, Kristian Hoffman, & Mario Lalli. Some of the great original Paul Roessler / Andrew Weiss / Sim Cain score remains, minus spoilsport Greg Ginn.

The end result is "Lovedolls Superstar: Fully Realized", a work I am most proud of. I am skeptical of director's revisions of their work, however I feel the story is better told. There's more insight to the insanity of the Carl Celery character, and more of a back story of Patch Christ's cult. Not to mention, it looks, sounds, and plays a whole lot better. I hope you will enjoy this definitive version of the film. Even if you haven't seen "Desperate Teenage Lovedolls" or the original release of "Superstar", I feel you'll be able to tap into the pop-culture satire that is "Lovedolls Superstar: Fully Realized".
- David Markey